Metallic Epoxy Floor Cost | Metallic Epoxy Floor Paint | Metallic Epoxy Floor Disadvantages
What is Metallic Epoxy? How To Apply/Install Metallic Epoxy Floor?  | Advantages of Metallic Epoxy Paints
Epoxy Flooring
Epoxy flooring is a resinous type of flooring and is highly durable, customizable, sustainable, and decorative for any surface.  It comes in different types which includes Metallic type of epoxy.
What is a Metallic Epoxy?
Metallic epoxy is a special type of epoxy that incorporates the use of a metallic additive mixed into a clear epoxy coating to create exotic effects. This metallic powder continues to move through the epoxy as it cures creating the lava flow or pearlescent design.
It is simple to prepare with a metallic pigment mixed within, tiny, almost glitter-like pigments, are mixed into an epoxy resin and then poured onto the floor or substrate. Eventually, the epoxy hardens and the metallic pigments are locked into place and give a three dimensional, swirly look.
The installation technique is what determines the final look of the floor and is a critical part in attaining the desired look.
Blue Metallic Epoxy Floor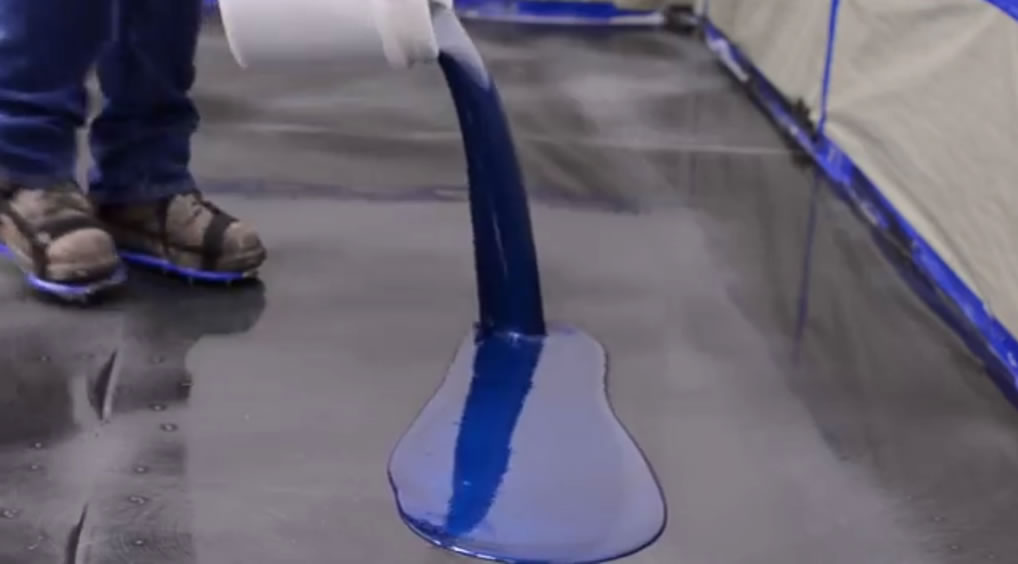 This type of epoxy is not only aesthetically pleasing, but also has many other advantages. Metallic epoxy floor coatings can be customized to be extremely durable, low yellowing, seamless, antimicrobial, slip resistant, and chemical resistant.
Not only will your floor look beautiful, but they will meet all of your performance needs. They are great for places like lounge, kitchen, basement, waiting rooms, show rooms, restaurants more.

Metallic Epoxy Floor Kit
Metallic Epoxy flooring have a smooth high-end appearance that is frequently mistaken for one-of-a-kind unique marble. Epoxy floors are inexpensive and simple to install. Metallic Epoxy Floor Kits are intended to be installed directly over an existing internal concrete flooring.
Metallic Epoxy Floor Coating
Metallic epoxy flooring is a decorative flooring solution that combines resins and hardeners with pigments to produce a tough, resistant, and long-lasting floor that is absolutely unique and one-of-a-kind.
Metallic epoxy flooring has become one of the most popular forms of epoxy flooring over the last five years, as well as one of the largest trends in the decorative flooring market.
Metallic epoxy floors are becoming increasingly popular in a variety of settings, including warehouses, showrooms, restaurants, and domestic living spaces, due to their transforming and unique characteristics, as well as their endurance.
Metallic epoxy floors allow you to create a unique aesthetic by blending different metallic pigments with epoxy coatings and manipulating them with solvents, brushes, and other tools.
How To Install Metallic Epoxy Floor?
A metallic epoxy floor coating is really a low yellowing epoxy that contains a metallic pigment. To put it another way, small, almost glitter-like pigments are mixed with an epoxy resin before being poured into the floor or substrate.
When agitated with a paintbrush or roller, these pigments aggregate, separate, twist, and twirl to reflect light from various angles.
When the epoxy hardens, the metallic pigments are cemented into place, creating a three-dimensional, swirly effect.
The installation procedure defines the final appearance of the floor and is an important factor in achieving the desired appearance.
Why Metallic Epoxy Floor Pigment Systems?
Showcase the "wow" factor with unlimited design options in a decorative marbled look or unique artistic expression
50 metallic & pearlescent UV resistant colors to choose from
Recreate a marble, quartz, or granite looking decorative surface at a fraction of the cost per square foot
What Are the Advantages of Having a Metallic Epoxy Floor?
Metallic-epoxy-flooring coatings are not only aesthetically beautiful, but they also have a plethora of other benefits.
Metallic epoxy floor coatings can be made to be exceptionally long-lasting, low-yellowing, seamless, antibacterial, slip-resistant, and chemical-resistant.
Metallic epoxy floor is a seamless epoxy floor with first-class chemical resistance and durability.
These flooring will not only look great, but they will also meet all of your performance requirements. They are ideal for use in waiting rooms, show rooms, restaurants, galleries, and other public areas.
Metallic Epoxy Floor Disadvantages
Because epoxy flooring is firm, there is impact noise when walking on them. As a result, flexible polyurethane floors are commonly used in offices and residences.
When there is no foam insulation, an epoxy floor feels cold, similar to tiled flooring.
Ripples in the floor might appear if there are unevenness or flaws in the substrate. This only occurs if the epoxy floor is no longer capable of bridging existing cracks.
The floor is susceptible to UV rays if it is not sealed. Fortunately, UV resistance can be easily increased with 1 or 2 layers of an epoxy finish coat.
What Is the Cost/price of Metallic Epoxy Flooring Per Square Foot?
The average metallic epoxy floor costs between $4 and $13 per square foot. The cost of your metallic epoxy floor will be determined by the epoxy color and type, design options, project size, and any necessary repairs.
 Are Metallic Epoxy Floors Expensive?
They are slightly more expensive than conventional epoxy flooring since the components are more expensive, and the method, unlike simple epoxy, involves more coatings and can involve some specific creative techniques. The cost of our metallic floor coverings begins at $4.50 per square foot.
Uses &Reliability of Metallic Epoxy Flooring
Metallic epoxy flooring, on the other hand, is extremely long-lasting, tough, and resistant. Indeed, many epoxy flooring is installed and valued in high-traffic areas and industrial facilities mainly for their longevity and resistance to high traffic.
Metallic epoxy floors are an outstanding flooring alternative for warehouses, auto shops, hospitals, automobile showrooms, and basements.
Other areas where metallic epoxy floor is used include;
Showroom Floors
Commercial Office Floors
Home Living Spaces
Garage Floors
Basement Floors
Indoor & Outdoor
Concrete Or Wood Floors And Countertops
Metallic epoxy flooring is particularly resistant to high temperatures, making them an excellent choice for garages and warehouses.
Can you use Metallic epoxy outside?
When deciding on outdoor flooring you should consider metallic epoxy flooring because it offers a safe, attractive, and low-maintenance option for your outdoor space. It is easier to clean than concrete alone and can be easily cleaned with a bucket of warm soapy water and a mop, or even a hose can sometimes do the job!
Metallic Epoxy is a 100% solid and can be used for basement floor treatments, cornet walk away, pool decks etc
How Long Can Metallic Epoxy Floors Be Expected to Last?
​​ How long does Metallic Epoxy Last?
Metallic Epoxy floors are not only better looking but also have a much longer lifespan compared to a traditional concrete floor. What appeals most to metallic epoxy flooring is it's resistance to high levels of wear and tear, making it the most long-lasting flooring options. If you are considering a durable type of floor, then metallic epoxy flooring is your best option.
Metallic epoxy floors are one of the most durable flooring choices available, with resistance to scratches, chemicals, stains, and cracks. Many consumers feel that metallic epoxy cannot be as strong as it is because of its very aesthetic features.
Metallic epoxy flooring can last over 30 years with good maintenance and little foot traffic; however, with high foot traffic, the lifespan can be a decade or two, but with adequate care and attention, they can last just as long as residential floors.
Are Metallic Epoxy Floors Slippery?
When wet, any epoxy flooring can become slippery. If you're placing these floors in a bathroom, garage, or other damp area, we recommend adding an anti-slip component to the epoxy to offer grip.
What Type of Maintenance Do Metallic Epoxy Flooring Require?
Maintaining your metallic epoxy floor is simple, but if you want it to look as good as it did when it was done, you will need to clean it frequently.
We also recommend that you clean the dust and dirt every day or as often as necessary to completely appreciate the magnificent color and dazzling effects! Then, when needed, use water and a little ammonia to clean the floor.
We do not recommend using soap because it can accumulate and leave a slick layer on your floor.
With proper maintenance, you will be able to enjoy your gorgeous metallic floors for many years to come.
If you believe that a metallic pearlescent coating will be too time-consuming for you, we recommend a simpler epoxy coating, such as a complete chip polyurea coating.
How To Apply/Install Metallic Epoxy Floor?