13 Top Advantages And Disadvantages of Laminate Flooring | How To Install Laminate Flooring on Concrete
Advantages And Disadvantages of Laminate Flooring | Installing Laminate Flooring for Beginners | Engineered Wood Vs Laminate Flooring Pros and Cons | Vinyl Vs Laminate Flooring
What is Laminate Floor?
Laminate is a multi-layer synthetic flooring product. It is designed to imitate the appearance of real wood. The core layer of laminate flooring is manufactured primarily from melamine resin and fiber board material. The top layer has an imprinted textured image made to look like real wood.
Laminate flooring, one of today's most popular flooring types, is a beautiful and durable hardwood alternative. This type of flooring is made of several layers: a soft layer of wear layer materials, a plastic layer with a protective coating, and a hard, durable wear layer for longevity.
Laminate floorboards typically have four different layers:
Backing Layer – The backing layer is the bottom-most layer that touches the floor. It acts as both a moisture barrier and helps to balance the board on the floor below.
Base or Core Layer – On top of the backing is the base or core layer. This forms the main structure of each board. It's usually made of a composite wood material called high-density fiberboard.
Design or Image Layer – Next is the design layer, which gives the floorboard it's pattern or design. An image is printed on a thin paper or resin layer and glued to the base layer.
Wear Layer – Finally, the board is coated in several layers of clear resin. This helps protect the board against scratches and everyday wear. It also serves as a moisture barrier to keep out water.
This type of flooring is perfect for rooms where you're entertaining guests and want to have a more polished look.
Another big advantage of laminate flooring is that it is very affordable. A laminate floor is an excellent choice for a budget-conscious consumer. A relatively cheap flooring option, it is popular due to its durability and low maintenance cost.
Laminate floors are scratch-resistant and can be installed easily with a professional flooring company. The flooring installation is designed to be moisture-proof, and there is no need for any supplementary protection.
On the negative side, laminate flooring is generally more expensive than other types of flooring, such as tile and concrete floors.
The flooring is also difficult to repair in some cases, so it isn't the best option for someone who moves frequently or has children.
Compare to other floors, there are many benefits to laminate flooring. It is easy to install, waterproof, and can be used in high traffic areas. Laminate flooring is also much less expensive than hardwood flooring which makes it a very popular option for homeowners on a budget.
There are some drawbacks as well though: laminate floors tend not to last as long as hardwoods do, they don't provide the warmth that you would find with other materials like ceramic or stone tiles, and the seams may require more work.
Engineered wood is made from a blend of different types of wood that have been engineered to be strong, stable, long-lasting, and beautiful.
Compare to engineered floor, engineered wood is often a little more expensive than laminate flooring, but it can be a good investment for high-traffic areas or homes with kids and pets. Laminate flooring is made of layers of paper or vinyl which can be printed to look like different types of flooring.
The downside to laminate floors vs tiles is that it scratches easier than tile. Tile comes with a variety of benefits. For one, it is waterproof. The downside is that tile is more expensive when compared to laminate flooring.
Glue Down and Floating Laminate
Laminate flooring typically comes in planks that are pre-fabricated and are easy to install. There are two different types of installation methods that laminate flooring can be adhered to (glue down and floating).
Glue Down Laminate Flooring
When using laminate flooring glue down, the boards are glued to the subfloor. It is secured by a pressure sensitive adhesive which can be strong enough to hold the boards together when under a lot of pressure.
The glue down method is typically used in kitchens because it provides for a more sanitary surface due to the reduced likelihood of water seeping up through the flooring and potentially ruining the flooring adhesive.
Floating Laminate Flooring
The floating installation method does not adhere the flooring to the backer board, so it can be installed on top of existing flooring.
Floating laminate is a better choice for homeowner because it is not glued to the floor and makes it easier to maintain
How To Install Laminate Flooring on Concrete
Installing laminate flooring on concrete
Installing laminate flooring on concrete can be a daunting task, and can sometimes introduce unusual challenges.
However, the benefits of installing laminate flooring on concrete far outweigh any difficulties in the installation process.
Whether the flooring is installed in new construction or remodeled areas, the end result is a beautiful shine that can help an area be more welcoming and inviting to family and guests.
First, it is important to properly prepare the area before installation. It is a good idea to scrape up any loose dirt or debris that may be present on the surface of the concrete. This will help the underlayment for the flooring to adhere properly. The underlayment is a material that is applied to the top of the concrete, and is responsible for providing a surface for the laminate flooring to adhere to.
After removing any loose debris, it is time to lay down a layer of felt paper. The felt paper prevents the flooring from lifting up as you work, and can help provide a more level and stable surface for installing the flooring.
Next, it is time to cut out pieces of underlayment and press them into place. Use a trowel to make sure the underlayment is firmly in place, and that it stays in place as you work.
After installing the underlayment, it is time to begin laying down the laminate flooring. Begin installing laminate flooring by following the manufacturer's instructions. The strips of laminate flooring are placed perpendicular (side to side) to each other, and are locked together at the seams with a locking mechanism on a strip of flooring. As one section progresses, it can be secured into previous sections with plastic clips.
Once the entire flooring has been installed, it is time to utilize the glue on the laminate flooring and apply it to the concrete.
Using a pry bar, remove all of the clips from each piece of laminate.
Once you have removed all of the clips, clean up loose pieces of laminate that may have been left over from cutting and gluing.
Finally, it is time to vacuum and clean up the entire surface. Picking up dirt and debris is not only important to keep the flooring looking its best, but more importantly, it will help prevent any mold or mildew from forming in the future.
Installing Laminate Flooring for Beginners (Guide)
Installing Laminate Flooring For The First Time // Home Renovation
Where To Start Laying Laminate Flooring in a Room
When laying laminate flooring in a room you will need to first sand the concrete floor/wood frame that holds the laminate down.
Once all of the structure is removed, you can then prepare the room by stripping any paint and then cleaning the wall. Before beginning to apply the laminate flooring, you will need to prep your space with a sealer.
It's important to make sure that all of your surfaces are clean and free of any dust and dirt so that no traces of dirt or dust from nails can get into the floor.
Always start laying laminate flooring in a room that is empty; this will prevent any debris from getting into the laminate and damaging the floor. You can then begin with the installation process by following the steps above.
Checklist for Installing Laminate Flooring
To make sure that you are covering all of your bases, it is important to follow some simple steps when laying laminate flooring in a room.
When you first get started, you will want to start by cleaning up all of your tools and supplies so that nothing will get left behind on accident.
It's also a good idea to label all of your tools so that you know where they are located. Make sure that you have all of the proper supplies and tools for the job such as laminate flooring, glue, a level, and floor preparation.
You will also want to make sure that you have the right size laminate flooring for your area by purchasing enough material for the installation and repeating steps 1-6 several times until you are 100% positive that there is enough material.
Once you have ensured that you have enough material and supplies, you can then get started with step one and continue to lay down the laminate flooring.
Once the installation is completed, make sure that you clean up your room completely before letting anyone fill it with items because they will bump into the flooring, and it may damage the floor and/or cause any moisture to be present on the surface of the laminate flooring.
After you have completed the installation, you will want to prepare the laminate flooring for being walked on.
Clean the entire surface of the floor and then make sure that it is completely sealed by using a top coat. Remember that once you have applied the top coat, do not use any chemicals because it may seep through and ruin your floor.
Advantages And Disadvantages of Laminate Flooring
There are many pros and cons of a Laminate Flooring. They include;
Advantages of Laminate Flooring
1. Easy Installation:
Laminate flooring is ideal for do-it-yourselfers and is quite simple to install, saving you even more money on installation costs.
Only a few tools are required for installation, most of which are common household equipment. To assist with a do-it-yourself project, we recommend obtaining a laminate flooring installation kit!
2. Durability
Another big positive is laminate's durability. It's a tough flooring material that holds up well to pets and heavy foot traffic.
Laminate flooring is resistant to scratches, stains, and just about any other damage. A laminate floor can last for years to come.
Laminate is also pretty water-resistant, great quality for a kitchen floor; you don't have to worry about a few drops hitting the floor while cooking, loading the dishwasher or if your puppy has a little accident.
3. Wide Variety of Styles, Colors and Patterns
With so many options available, it's easy to create the look of your home you want without breaking your budget.
You can choose from any of the most popular texture/pattern combinations, including carpet tile, vinyl, and even wood!
4. Easy Cleaning and Maintenance
Laminate is made largely out of plastic, making it very easy to clean. It also comes in a wide variety of styles that are easy to maintain and keep looking beautiful for years to come.
Laminate flooring is very easy to care for, making it the perfect choice for families with children or pets.
5. Very Affordable
As mentioned, laminate is a very affordable flooring option. That means that you can get a beautiful floor without breaking the bank.
And, because laminate floors are so durable and long-lasting, you won't have to replace them every few years as you will with some of their inferior counterparts!
Laminate floors are quite reasonably priced when compared to other types of floors such as Luxury Vinyl or carpet.
6. Unique Design
Laminate floors come in so many different styles and colors that they make your home stand out from the rest. Many people choose laminate for its unique look.
Laminate flooring is perhaps the most beautiful type of wood that can be found in a home. A laminate floor has visual appeal and provides a comfortable surface to walk on.
7. Easy to Remove If Needed
When relocating, you can easily remove a laminate floor and put in another floor covering. This is an advantage when removing the old flooring and installing the new one. Laminate floors can be removed, transported, and reinstalled with ease.
8. Environmentally Friendly
Made from materials that help reduce greenhouse emissions, laminate floors leave a little carbon footprint on the environment.
Also, unlike solid wood or hardwood floors, laminate does not require large amounts of oxygen to produce or transport.
Laminate floors are also made out of recyclable materials, making them eco-friendly flooring options.
9. Easy Maintenance
Laminate floors require very little maintenance to keep them looking their best. They do not need to be refinished like hardwood floors or sanded like some other flooring types.
10. Last Longer
The lifespan of laminate flooring is much longer than some other types of flooring. The fact that the laminate flooring is scratch-resistant is a huge asset for homeowners with children, animals or both. A laminate floor can look as good as new for years without having to repaint or refinish it.
Disadvantages of Laminate Flooring
1. Difficult to Repair
Recently, there have been complaints that laminate is difficult to repair or replace when damaged. The laminate flooring is not as popular as some of the other flooring options because it is difficult to repair if you make a mistake on installation.
If you purchase laminate flooring, be absolutely sure that the base is clean and level before installing the flooring.
2. Produce Some Unwanted Sound
This is another drawback of this laminate floor. Laminate floor can produce some unpleasant noise/sound when walking on the with shoes on.
Many homeowners do not like this sound/noise. This sound can be disturbing for most homeowners who want to enjoy their comfortable living in their homes.
You should find other products, especially if you are interested in using silent floors for your house.
3. Not for High-Traffic Areas
Laminate flooring can be damaged by heavy traffic. It will not last long if installed in a high-traffic area in your home.
Laminate flooring is also difficult to repair if damaged. This is another reason it is not the best type of flooring for high-traffic areas.
It can be hard to fix a scratch on laminate flooring because there are many layers involved, and each layer has a different texture and construction method.
4. Can Be Slippery
This laminate flooring is produced in such a manner that it can cause slippery during the rainy season. You should know that laminate flooring can be damaged by water.
Water damages the laminate flooring, and you will need to replace or repair this floor very quickly.
5. Laminate Flooring Has a Hard Surface and Is Not Comfortable
This laminate flooring does not feel like a carpet as it has a hard surface. Laminate flooring can be very uncomfortable, and it will not be a nice choice for people who want to get the natural softness of a carpet,
It will be a great disappointment for anyone who wants to enjoy their long-term living in their homes.
5. Can Be Unstable
Laminate flooring can be very unstable because it is not solid like concrete or wood, and you need something to hold in place on top of your floors.
6.  Not Moisture-Resistant
Laminate flooring is not resistant to water and requires extra protection against water. The laminate should be installed in a room that has proper ventilation.
7.  Can Be Expensive
Laminated floors are more expensive than other types of floors. If you are on a budget, laminate may not be the best choice for your home.
8. Unable to Refinish This Flooring
Laminate flooring is not suitable for people who want to refinish their flooring. Laminate floors are not able to be refinished properly. This flooring has one single layer. This layer is going to degrade from time to time.
However, you are not able to refinish this product with some layer protection products. It means that you cannot improve the overall look of this flooring type inside your house.
If you are interested to have beautiful flooring, you should find other alternatives.
9. Laminate Floor Is Not Natural
This is another disadvantage that you can get from laminate floor. This floor is not as natural as the wood floor.
If you are interested with natural items or products, you should not choose this product. Some people are okay with this fact.
However, most homeowners do not want to install unreal wood products in their house. Therefore, this product is not recommended for people who want to have a natural feeling in their house.
Laminate Flooring Vs. Hardwood Flooring
Both laminate and hardwood floors are terrific options for adding a lot of warmth and ambiance to a room. They're both durable, easy to maintain, and create a beautiful home.
There are a few key differences between laminate and hardwood that may be important to you. Laminate is more affordable than hardwoods, but it also won't last as long. Hardwoods are more expensive, but their durability can make them a better long-term investment.
Laminate floors can be a more affordable option than hardwoods. This type of material does not require any sanding or refinishing to keep it looking good.
You also don't have to worry about spills damaging your laminate floors the way they would with hardwood.
However, this type of floor is usually less durable than hardwood – meaning you'll need to replace it sooner than if you had chosen wood as your main choice.
Solid hardwood flooring may cost between $5 and $10 per square foot, installation included. However, keep in mind that hardwood flooring is derived from wood material; cost varies according to the type of wood selected. In general, hardwood is more expensive to purchase and install.
Not only are the components less expensive, but laminate wood installation costs around half as much as hardwood installation.
Laminate flooring may cost between $3 and $7 per square foot, installation included. Again, specific costs will vary according to the materials chosen and the size of your property.
Vinyl Vs Laminate Flooring Pros and Cons
Vinyl and laminate flooring are two of the most popular composite types of flooring in the modern world. They both have advantages and disadvantages, so it's important to take into consideration what type you like best before making a decision.
Although there is no much difference between vinyl plank vs. laminate, for a long time, vinyl plank has one distinct benefit over laminate: resistance to water.
However, waterproof laminates such as RevWood are beginning to level the playing field.
Apart from that, vinyl plank and laminate are rather comparable. Both are composite flooring, which means they are manufactured of many layers.
Both are extremely durable. Additionally, they both offer incredible wood-look aesthetics at an affordable price range.
Vinyl is easier to clean than laminate but does not look as nice as laminate. Laminate can be easily cut or torn with sharp objects, which could lead to accidents if someone unknowingly walks on it barefoot or with socks on.
Vinyl is less likely to get scratched when compared to laminate because vinyl has more give and doesn't typically scratch furniture that may be placed on top of it.
Laminate offers more color options for consumers looking for something different from what they're.
Again, Vinyl has a longer lifespan and better overall durability than laminate. Don't forget to factor in your budget, however.
Vinyl flooring may be more expensive than laminate flooring, especially if you choose luxury vinyl flooring.
Engineered Wood Vs Laminate Flooring Pros and Cons
An engineered wood floor is made of either a wood veneer or a very thin sheet of wood over a wood or plywood substrate.
Engineered wood floors are thicker and denser than a natural wood floor. With the high durability and strength characteristics, engineered wood floors are suitable for many applications and can be used in areas that would not be suitable for natural wood floors.
Engineered wood flooring is a type of laminate that has been engineered to be more durable. Manufacturers use high-quality plywood and other materials in the construction process, which makes it a great choice for those with pets or children.
Laminate flooring is a manufactured product made of different layers of plastic, paper, and wood. Laminate flooring is not as durable as engineered wood floors.
Engineered wood floors require less maintenance and offers a lifetime warranty.
Laminate flooring can be installed on top of almost any existing surface, making it an ideal option for renters who don't want to do any major renovations.
Engineered wood and laminate flooring are both great options for homeowners, but there are some differences between the two.
For example, engineered wood is more expensive, more versatile and environmentally-friendly than laminate because it is made of recycled materials like sawdust or old paper.
On the other hand, laminate has a wider variety of styles and designs to choose from. Whether you're looking for an elegant hardwood look that will last a lifetime or something with bright colors and patterns that will make your home pop, we've got you covered!
Pros And Cons of Laminate Flooring Vs Tile
Laminate floors and tile floors are both great options when it comes to choosing a flooring material. For some homeowners, either choice is a good one.
For others, there are pros and cons for each. Some of the advantages of laminate flooring are that it requires little maintenance and that costs are lower than tile.
In terms of durability, tile is the clear winner. When tile is installed properly, it becomes nearly impenetrable.
Laminate flooring is more affordable, comfier underfoot, and quicker to install than wood laminate, but it is more prone to scratches and water damage.
In comparison, tile is more expensive and more difficult to install, but it offers superior water protection and is unlikely to require replacement over the course of a lifetime.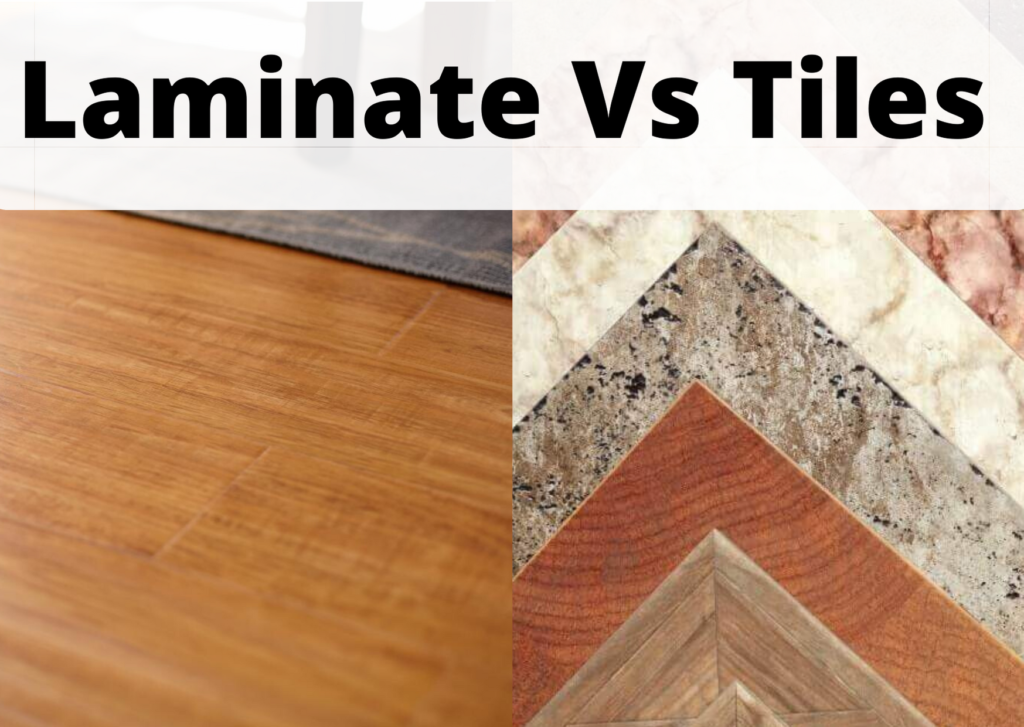 Tile repairing is far easier than laminate repair. Individual tiles are installed and grouted together to form a whole floor.
That implies that if a tile is chipped or cracked, you may quickly repair it by removing it, replacing it, and re-grouting the area.
Laminate, on the other hand, is a very different situation. You install laminate in a wall-to-wall approach. Then, from the sides and lips, you interlock each component.
Is Laminate Flooring Waterproof?
Laminate flooring is not a flooring type typically found in areas of a home that are often wet.
Laminate flooring is a type of synthetic fabric that can be installed with or without underlayment, and is installed in an interlocking fashion over a stable underlayment.
Some laminates are water resistant, but others are not. Some advanced laminates are water resistant and are installed just like vinyl sheet flooring.
The question of whether laminate flooring is waterproof will depend on the type of laminate that you purchase. While some laminates will be waterproof, others will not be.
The type of laminate that is used, the humidity in the air, and the distance between the laminate and the water are factors that will determine how water will affect your flooring.
Laminate that is not waterproof can discolor and wear away from everyday use, so it's important to find out if your laminate flooring is waterproof before purchasing.
The general rule of thumb is that a home with laminate flooring should have as few wet areas as possible.
Although some home owners might prefer to have laminate flooring installed throughout the home, it is not a wise choice for someone who has an area like a bathroom
Laminate flooring is not waterproof but is resistant to minor spills and water. Spills should be promptly cleaned up with mild soap and water, then the spill area should be left to dry to avoid creating a humid environment.
If a large amount of water spills onto laminate flooring, it should be removed with a wet/dry vacuum or a wet vacuum.
Labor Cost to Install Laminate Flooring
Laminate flooring installation costs on average between $4 and $8 per square foot, including labor and materials.
You should budget between $4,000 and $8,000 for the installation of 1,000 square feet of mid-range laminate.
Expect to pay between $2 and $5 per square foot for labor only.  Laminate flooring can be made to imitate stone or tile, but the majority are made to look like wood.
The cost of installing laminate flooring varies according to the quality of the laminate and whether you want to do it yourself or hire a professional installer.