Mabati : List of leading Mabati Companies in Kenya
Mabati: List of leading Mabati (Iron Sheets) Companies in Kenya
What is Mabati? 
Mabati is a Swahili name for corrugated galvanized iron sheets which are used to cover a house. Mabati is usually a building material that is composed of the sheets of galvanized mild steel that are rolled to be able to produce a linear corrugated pattern.
The corrugations help in increasing the bending strength of the sheet in a direction perpendicular to corrugations, and not parallel to them as steel must be stretched to bend perpendicular to corrugations.
Mabati is lightweight and it can easily be transported. It is widely used in Kenya, especially in the rural areas and the military buildings such as sheds and water tanks.
Leading Mabati (Iron Sheets) Companies in Kenya
Roofing is a very important exercise because it determines the ultimate look of a house. In Kenya today there exist several companies that manufacture or sell roofing material. This is a list of mabati sheet companies in Kenya.
Mabati Rolling Mills (MRM)
Mabati Rolling Mills, commonly abbreviated as MRM, has grown to become the largest company within the Safal Group. Its operations started in the year 1962 at the Mariakani, near Mombasa, Kenya  was among the first companies in Africa to be able to produce coated steel using the patented Aluminum-Zinc alloy that is recognized as leading technology worldwide to offer superior service life to the steel.
Located in over 10 offices and many Authorized Distributors across Kenya, Mabati rolling mills has sealed its spot as one of the top roofing companies in Kenya. Some of their products are DumuZas, Dumurangi,Versatile, Zentile, Elegantile,Orientile,Resincot, Maxcover-Matt finish and Covermax.
NOTE:
Mabati Rolling Mills has been the leading manufacturer when it comes to Metal Coated and Painted Steel Roofing solutions for the building and construction industry in Kenya for over 50 years.
Contact: 0704 126809
 Royal Mabati Company
Royal Mabati Company is a roofing company which has its factory on Mombasa Road, in Mlolongo Opposite Sabaki Stage. The company as expanded rapidly  since its inception in the year 2005 and are known to  offer clients extensive products and service including free product delivery to individuals and the companies.
Some of their products are Roman longtile, Box & Bricktile Profile, Corrugated Profile , Commercial IT 5 and Eurotile Profile and other accessories like roofing nails, valleys, ridges and rubber washers.
Contact: 0722638383
Maisha Mabati Mills Limited is part of Devki Group Of Companies which has over three decades of experience in manufacturing of quality steel building product and located in Ruiru Town.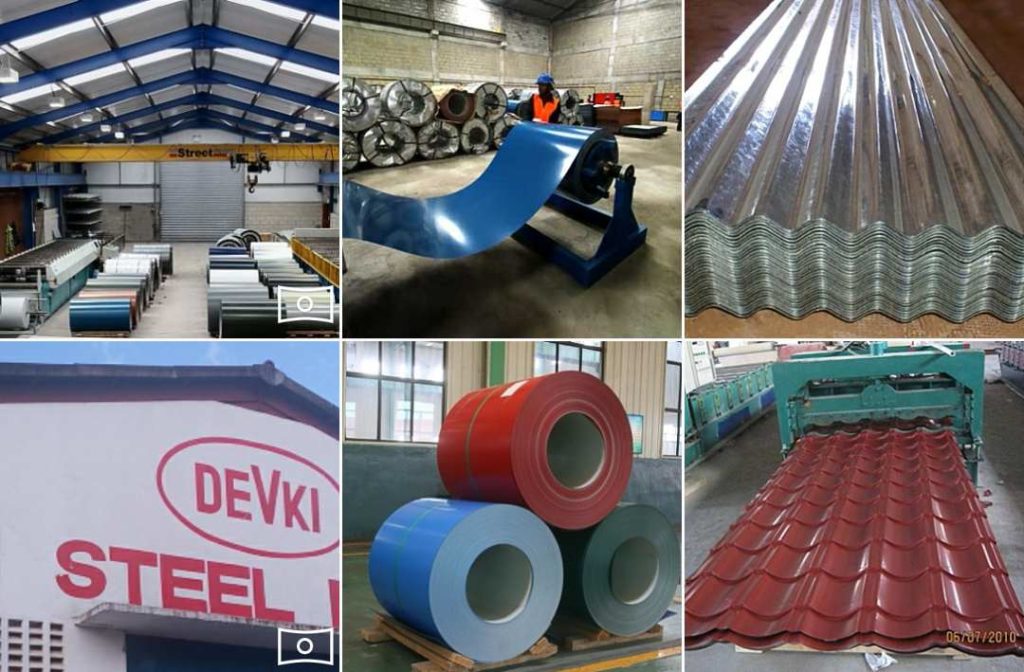 Devki  Group deals with manufacturing of Steel, Roofing Sheets, Cement and providing aviation services among many others. Some common roofing products from Maisha Mabati Mills include: Maisha Tile, Maisha Mabati 11/3, Maisha Alu-Zinc Mabati, Maisha mabati Cover, Maisha Box I.T.4 & I.T.5, Mabati 11/3
.Contact: 0756 020 620/ 0709110000
Imarisha Mabati Ltd
Probably the youngest player in the iron sheet industry, Imarisha Mabati factory was started in 2017 and has since grown into a six roofing profile and accessories company.
Imarisha Mabati is located in the southern part of Nairobi Kenya, along Mombasa Road. Their roofing products are Imarisha Box, Mettro Tile, Wave Tile, Imarisha Classic, Imarisha Prime and Bamboo Tile.
Contact: 0722370001
[email protected]
 Rhino Mabati Factory Ltd
Rhino Mabati Factory Limited is a Kitengela based manufacturer of custom made coloured Roofing Mabati and Accessories. Its products are Roman Jamii Tile, Jamii Tile and Box Jamii Tile.
Contact:0729628199
Rafiki Roofing Mabati
City Engineering Works Kenya Ltd is the parent company to Rafiki Roofing Mabati, located off Busia Road in Industrial Area, Nairobi and has been supplying trusted products to both residential and industrial customers for over 50 years. Rafiki roofing Mabati do offer free and fast deliveries within Nairobi and across Kenya at some fee. Their roofing products are Rafiki Crimped, Contempo 780/6, Roman Tile, Elite Tile, Industrial 930/6, Maxroof 1110/10, Rafiki TIle, Corrugate 11/3 and Corrugate 14/3
Contact: 0722 484055 / 0736 572447
[email protected]
Penta Mabati
Penta Mabati does specialize in offering the best quality and also affordable products and services to its customers. The company is locally owned and it is registered in Kenya.
The company has products that are fade-free and also rust-free with a guarantee of up to 15 years. It does offer free and also timely delivery within seventy-two hours to the customer's site.
The company has various colors including Charcoal grey, dark blue and also brick red both in gauge 30 and gauge 28 including the following brands: Penta Box 940 Mabati, Penta Corrugated 850,Penta Curve Tile, Penta Long Tile,Penta Tile
Super Mabati
Located in Nakuru Pipeline, Elementaita Road, Super Mabati started small seven years ago but has grown tremendously to rival other companies which have been in the industry for a long time now. Their roofing products are Box Profile roofing sheets, Corrugated iron sheets, Sancot roofing sheets and super tiles roofing tiles.
Contact: 0710757272/ 0703296473