Top 6 Types of Fencing Solution!! Securing your Home 
Top 6 Types of Fencing in Kenya!! Securing your Home
The type of fencing you choose will not only play a key role in your home's exterior design, but also provide one of the most important benefits of all homes; security. A professionally installed fence gives every homeowner that true sense of home we all desire.
Types of Fencing

The most popular types of fences are:
Chain Link Fencing
Chain link or wire fencing has been the timeless go-to for rural properties and farm homesteads, or for low fences separating areas of the garden. This option is incredibly cost-effective and is easy to repair or replace. Chain link fences do not add much privacy to the home, but perform the other basic functions of a fence quite well.
Oftentimes, homeowners add a good amount of shrubbery, flowers, vines or even privacy slates on the outside of chain link fence
Aluminium Fencing
One of the most basic and attractive fencing types is aluminium. While it does not provide the amount of security many homeowners look for in a fence, it's relatively maintenance free and can essentially look like any other type discussed in this article.
The only maintenance will come during installation when you choose to paint and decorate it. However, along with the security, it's not as strong as you may think.
Wood Fencing
Wood is the most popular fencing type across East Africa. Not only does it give homeowners a sense of privacy with the height wood fencing provides, but they are also one of the more attractive options on the market.
Wrought Iron Fencing
When you see homes with funky designs on top of their fences, oftentimes, those homeowners chose a wrought iron fence. While wrought iron fences are both strong and beautiful, they do require constant upkeep. If you want to maintain its beauty, wrought iron fences need to be sanded or repainted every two to three years.
Furthermore, going back to the security portion of the conversation, wrought iron fences are not popular choices for the more conservative homeowner.
Barbed Wire Fencing
When it comes to your property, fencing can be used to create a virtual boundary. Installing a security fence, such as a barbed-wire fence, has the potential to protect the property by deterring unwanted animals and intruders.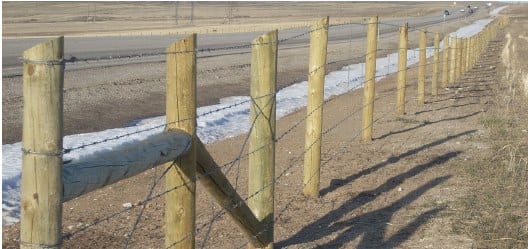 It is affordable, durable, can be used for years, and there are no maintenance costs involved for this type
Electric Fencing
Invisible fences are used mostly to contain dogs through an invisible field of electricity. They are also known as electric fences
Typically, the installation involves placing a wire in a trench dug along the boundary the owner wishes to fence off. A wireless transmitter is also set up nearby to activate the wire. The final item in the fencing is a battery-powered collar to receive the signal from the wire. The collar warns the animal when it's near the boundary with a sound pitched only to the animal's hearing
Experts in Fencing!!
Whether you are looking to install a beautiful wrought-iron inspired steel fence around your home, or a chain-link fence that will last you years, we can help. We have partnered with experts installing all kinds of fences including barbed wire and cedar posts, as well as aluminum agricultural gates.
Start your residential, commercial, or farm fence project by requesting an estimate from us. Request a FREE Quote below…