Aluminium Windows and Doors: Top 5 Advantages of Aluminium
Aluminium Windows and Doors.
Aluminum products is increasingly being used in the construction industry because of its versatility and can be used in a variety of ways. It is strong and lightweight, making it perfect for construction projects.
Aluminium profiles can be produced in a variety of shapes, including square, rectangular, triangular and curved shapes. They are also available in a range of colors and finishes to match the style of your home.
Aluminium square is the most popular extruded aluminium profile. It is an aluminium alloy with a square cross-section. There are a variety of types and sizes of aluminium square, but all have the same characteristic: a four-sided shape with 90-degree angles. Aluminium square is used in a wide range of applications, from construction to transportation.
Aluminium are commonly used to make  aluminium folding doors, aluminium partitions for offices and homes,aluminium swing and sliding doors, aluminium cabinets, aluminium sliding and folding windows aluminium curtain walling,  ,aluminium projecting windows among other usages.  Aluminum fabrication  are often done as per your sizes.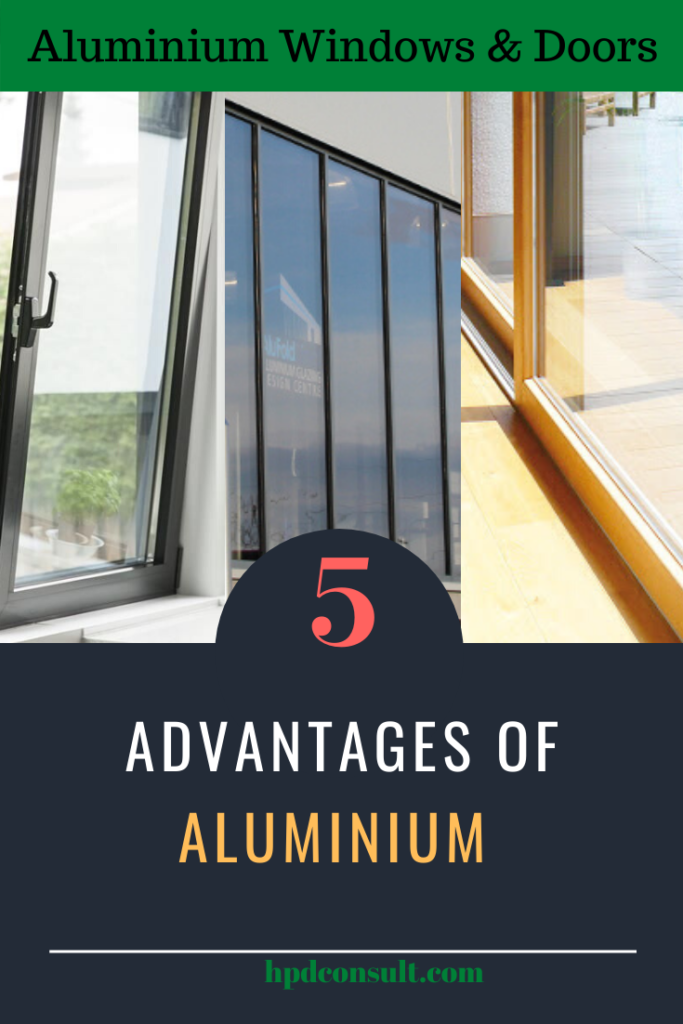 Aluminium Windows and Doors Advantages
There many reasons that make aluminum very versatile and liked by many home owners as compared to timber or steel.  Below are some advantages:
Durability of the Aluminum
The doors and windows made from aluminum are long-lasting because aluminum is not prone to crack, attract by rust, temperature variations and even moisture. This is  major advantage over wooden windows.
Strength of the Aluminum
Aluminium products including doors and windows very strong and do not get destroyed easily. Many aluminum manufacturers are currently are able to create many designs  that are fotifired to make aluminum strong.
An aluminium square for doors and windows is a metal frame that is fitted into the opening of a door or window to provide support and rigidity. It is typically made of aluminium, which is a strong and lightweight metal, making it an ideal choice for this purpose.
Versatile and Stylish Nature of Aluminium
Many homeowners and contractors who have unusual tastes for designs stylish, aesthetically pleasing windows, like aluminum for its versatile nature.  It give  your home the desired sleek and modern appearance
Aluminium  is Light weight
Not only are aluminum windows and doors being incredibly strong, they are also very light lighter therefore provides unparalled option for window and door frames compared to wooden or steel window casings.
Favorable Cost of Aluminium
Because Aluminium, is readily available being the third most common element on earth, is cheap as a raw material. Windows made of aluminium cost less than glass windows and are easy and cheaper to maintain.
Aluminium Colour
Aluminum is also available in many colours and and include:
1. White
2. Black
3. Grey
4. Red
5. Champagne gold
6. Dark blue
7. Metallic grey
Uses of Aluminium
Aluminium is  a  lightweight metal material with many uses. It is  malleable and soft. Aluminium is currently used globally in many huge  construction projects and variety of products including windows, doors, cans,frame, kitchen utensils , beer kegs,foils  and manyaeroplane parts. This is because of its lightweight properties.
Below are sample products of Alluminum Windows and Doors
Folding Aluminium Window.
This is excellent for rooms that have beautiful  front views like in hotels, game lodges and luxury homes.
Sliding Alumium Window
. The glass can also be single or double glazed for maximum insulation against the elements.
Tilt and Turn Aluminium  Windows
Sliding Aluminium Door.

These are useful where the space is too tight for a side hung door which takes up much space in the swing area.
Aluminium Windows FAQs
1. Are Aluminium windows expensive?
Because of greater material and production expenses, installing aluminum windows is always more expensive than UPVC (on a like-for-like basis).
However, because aluminum is a more durable material than UPVC, it can save money in the long run.
2. What are the drawbacks of aluminum windows?
Although they resist oxidation and corrosion for a longer period of time, they are not resistant to it, therefore you may notice some changes in the finish or color of your aluminum windows over time.
And, no matter how effectively the frame and sash are insulated, they are still metal and will transfer heat and cold.
3. What is the life expectancy of an aluminium window?
The life expectancy of an aluminum window will depend on the particular features and specifications of each model.
Aluminium windows generally have a 30-40 year life expectancy, but this can vary from manufacturer to manufacturer.
4. Is installing aluminium windows still safer than installing PVC windows?
Aluminium windows may not be more safe than PVC windows, but any impact from outside will be absorbed by the aluminum frame and sash system, so you won't have to replace anything under normal circumstances.
Aluminum windows and doors are projected to have a 40-year life expectancy, but uPVC frames have a life expectancy of just 20-30 years, depending on the degree of maintenance given to the windows or doors.
5. Are aluminium windows thermally efficient?
Aluminium windows with thermal breaks have an R value of 5.5, and those without thermal breaks have a lower R value of 3.1. Thermally broken aluminum windows consistently beat uPVC windows in terms of energy efficiency.
A thermal break guarantees that the aluminium surface is not affected by exterior temperatures, preventing it from becoming a source of heat loss and even condensation in your house during the colder months.