Paving Blocks: Best Cabro Paving Block Designs & Prices
Paving Blocks: Key advantages of Cabro Paving Blocks
Paving blocks commonly know as cabro paving blocks are becoming popular for pavement surfacing in Kenya. It is made from various materials like concrete, clay, recycled plastic, etc. but the most commonly used are clay and concrete.
Paving blocks are used for exterior pavement applications and are available in different sizes, shapes, colors, textures, and patterns.
Advantages of Paving Blocks
We  explain various advantages of paving blocks
Highly Versatile &Aesthetically Pleasing
Paving blocks are available in various shapes, colours, textures,s and size options providing a virtually infinite array of design possibilities.
Paving blocks have a unique quality to interlock with each other due to the large availability of various shapes.
The wide variety of design, colour, and thickness of paving makes block paving suitable for both domestic and commercial applications including pavements, driveway, sidewalk, pool deck, parking areas etc.
More Environment-Friendly
Paving blocks are more environment-friendly as compared to the solid plain surface. Solid surface causes water and chemical runoff that may pollute natural water sources.
Block paving will also prevent rainwater from gathering or flooding, allowing you to create a better drainage system on your driveway.
Durable, Safe & Long Lasting
Block paving is very durable and is expected to last reliably for at least 20 years.
Cracking is not developed when they are properly interlocking with each other.
It is a great material for residential and commercial applications for long-lasting.
Paving blocks can withstand any type of vehicle load and pedestrian traffic with low maintenance.
These blocks are used for any type of traffic like, low, medium (60mm), and heavy (80mm.
It is also able to withstand a lot of pressure so that it can also be used in airports and docks.
Easy To Install And Maintain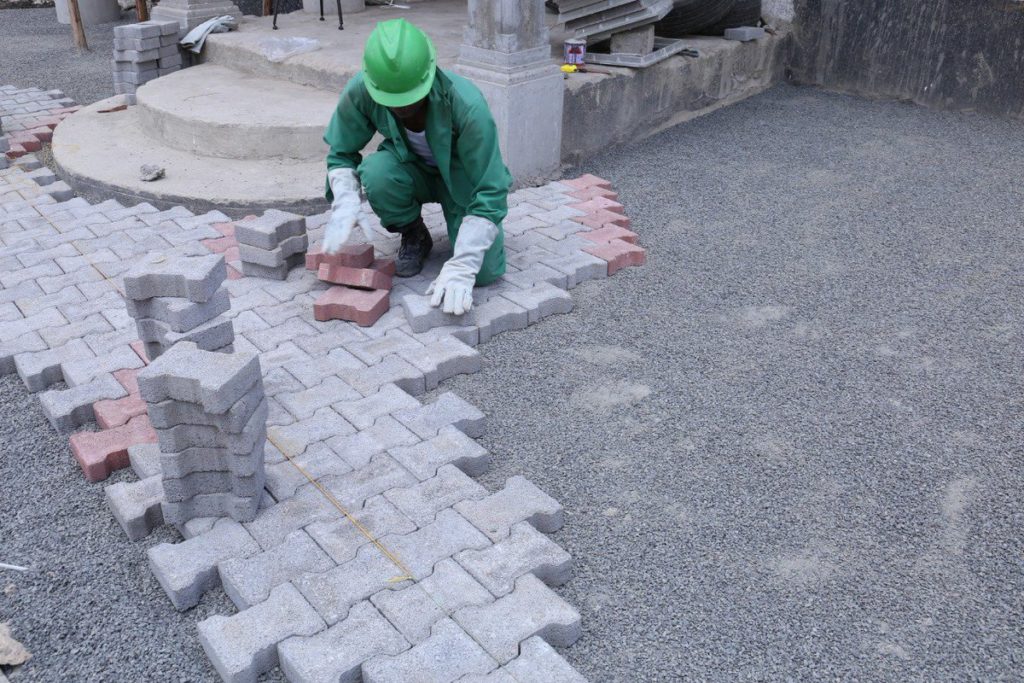 It is easy to install without using any heavy machinery or equipment.
After installation, you can immediately use block paving for walking and can be open to the traffic.
Mortar is not required for the installation of the paver.
Paving blocks require low maintenance as compared to plain concrete or asphalt pavement.
You can regularly wash your driveway with simple soap and water, so it will help to keep it looking fresh and in bright condition for many years.
Paving blocks are a very safe pavement material for outdoor applications. When the top surface of paver is oily due to the passing of vehicles over them, it is very safe to walk and drive a vehicle over them.
It is also safe when the top surface of the paving block is wet there is no problem for walking or no tension of slipping over them.
Paving blocks are slip-resistant and skid resistant.
The most important advantage of paving blocks is, if one block is damaged or stained with oil, diesel, or petrol spillages, they can be easily removed and replaced with a new one.
It is easy to repair and replace and no heavy machinery is used for repairing or replacing the block.
No skilled labour is required.
Paving blocks are a long-time investment for driveway/pavements and are known to significantly increase the value of your house /property apart from the beauty it brings.  The cost of the paving blocks starts from Ksh 1400/- per square meter.  This is exclusive of installation cost and availability of colours, shapes, and sizes, you can create and also customize driveway design. It gives both the beauty and durability of your pavement at a low cost and low maintenance.
Check >>Bill of Quantities Example (PDF Download) Here