Brick sizes: Standard Brick Dimensions | Brick Dimensions Table
Brick sizes: Standard Brick Dimensions | Brick Dimensions Table
What are Bricks?
Bricks are types of blocks commonly used to build walls, partitions, pavements, and other parts in masonry buildings' works. Typically, the term brick means a block composed of dried clay but is now also used informally to mean other chemically cured construction blocks.
Brick Making Process
The process of making bricks typically involves preparing clay, moulding, drying, and burning the blocks to harden them. Compared to building stones, building bricks do not need any dressing.
The versatility of the raw clay material and manufacturing process means that it is possible to fabricate bricks to a wide range of dimensions. The brick dimensions stated by the manufacturer are known as the work size. The most widely used work brick dimensions size for UK clay bricks is 215 x 102.5 x 65mm.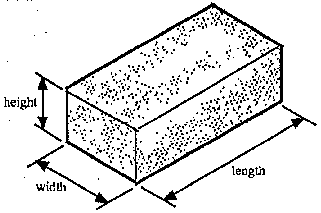 Standard Brick Dimensions
There are many various dimensions of bricks that are used by construction companies but maintain standard brick dimensions. The standard brick size for working purposes is 225mm x 112.5mm x 75mm dimension (length x depth x height).  Additionally, this excludes 10 mm mortar joints, and then the actual dimension of brick is 215 x 102.5 x 65 in mm dimension.
Brick Dimensions Table
| | | | |
| --- | --- | --- | --- |
| Type of Bricks | Characteristics of Bricks | Imperial length x depth x height | Standard size of brick in MM |
| Block Bricks | Constructed using concrete or cement. They may include a hollow core to make them lighter and to improve their insulation. | | 440 x (varies) x 215 |
| Modular Bricks | Commonly used for the construction of buildings and residential homes. | 7-5/8″ x 3-5/8″ x 2-1/4″ | 194 x 92 x 57 |
| Jumbo modular Bricks | | 7-5/8″ x 3-5/8″ x 2-3/4″ | 194 x 92 x 70 |
| Queen Bricks | Slightly smaller and more cost-effective than a modular brick. | 9-5/8″ x 3-1/8″ x 2-3/4″ | 244 x 79 x 70 |
| King Bricks | | 9-5/8″ x 2-3/4″ x 2-5/8″ | 244 x 76 x 67 |
| Engineer Bricks | Used where strength and water/frost resistance are required. Very sturdy and reliable to use. | 7-5/8″ x 3-5/8″ x 2-13/16″ | 194 x 92 x 71 |
| Closure Bricks | Used to finish off a wall, especially at the corners | 7-5/8″ x 3-5/8″ x 3-5/8″ | 194 x 92 x 92 |
| Norwegian Bricks | Substantial bricks that can be used in loadbearing walls while still looking good. They have a natural beauty to them. | 11-5/8″ x 3-5/8″ x 2-13/16″ | 295 x 92 x 71 |
| Monarch Bricks | Commonly used for long stretches of wall and are very strong. | 15-5/8″ x 3-5/8″ x 3-5/8″ | 397 x 92 x 92 |
| Utility Bricks | Very versatile and can be used for a range of construction projects. | 11-5/8″ x 3-5/8″ x 3-5/8″ | 295 x 92 x 92 |
| Norman Bricks | These are classic industrial bricks for construction projects and commonly come in red or white. | 11-5/8″ x 3-5/8″ x 2-1/4″ | 295 x 92 x 57 |
| Roman Bricks | | 11-5/8″ x 3-5/8″ x 1-5/8″ | 295 x 92 x 41 |
| Quad Bricks | | 7-5/8 x 3-5/8″ x 7-5/8″ | 194 x 92 x 194 |
| Danish hand mould | | 7-5/8″ x 3-5/8″ x 2-1/4″ | 194 x 92 x 57 |
| Meridian Bricks | | 15-5/8″ x 3-5/8″ x 3-5/8″ | 397 x 92 x 92 |
Standard brick size in the United States (US)/US Brick Sizes
The standard brick size in the United States is 203 mm × 92 mm × 57 mm as recommended by the American Society for Testing and Materials. However, the commonly used modular brick is 194 mm × 92 mm × 57 mm.
Standard brick size in the United Kingdom (UK) ( UK Brick Sizes)
The standard brick size in the United Kingdom is 215 mm × 102.5 mm × 65 mm.
Standard brick size in India
The standard brick size in India is 190 mm x 90 mm x 90 mm as recommended by BIS.
Standard brick size in Kenya
The standard brick sizes in Kenya are 225 mm x 110mm x 75 mm. With a 10 mm mortar joint thickness, the sizes add up to 235 mm x 120 mm x 85 mm
Advantages of Bricks
In building and construction, bricks provide several benefits making it commonly used construction material.
Brick is a long-lasting material and can ultimate last hundreds or many of years
Brick is fireproof and can face up to exposure to excessive temperatures
Brick provide noise and soundproof qualities
Brick does not require a lot of work or other finishes for the safety of the environment
Since clay is almost everywhere, brick may be fabricated regionally, cutting down the costs related to their transportation. This can mean that the production and usage of bricks can be less costly than stone, concrete, or steel
Brick is simpler to work with because of its uniformity in length, unlike stone which desires to be sized and dressed.
Brick is simple to handle and skilled masons which could assemble with brick are readily available.
Types of Brick
There are several ways wherein brick may be categorized or characterized. Bricks can categorize by materials used to fabricate them.
Burnt Clay Brick
The most common forms of bricks utilized in construction are primarily made from clay. These consist of burnt clay brick and fireplace clay brick. These are normally known as common brick.
Burnt clay brick is made from clay that is either molded, dry-pressed, or extruded after which dried and fired in a kiln.
Fly Ash Brick
Fly ash brick, also referred to as fly ash clay brick is made out of a combination of fly ash and clay fired at extreme heat and temperature. Fly ash is a glassy particle that accumulates from the burning of pulverized coal.
The addition of fly ash creates brick that has better concentrations of calcium oxide, is less porous meaning that they exhibit lower ranges of water penetration, and is self-cementing. They also have better density, resistant to freeze-thaw cycles better than clay brick, and have high fireplace isolation characteristics.
Fire bricks
Fire brick, additionally called refractory brick, is a sort of brick that is built from hearth clay. Fire clay has a very high melting temperature (~1600oC) because of its excessive alumina content material, which can vary from 24 -34%.
These bricks are designed to have high-temperature tolerance, low thermal conductivity, and can continue to exist thermal cycling and rapid adjustments in temperature. Fire brick is utilized in furnaces, kilns, chimneys, fireplaces, boilers, and different similar projects in which there's direct contact to high-temperature.
Sand Lime Bricks
Sand lime bricks also referred to as calcium silicate bricks or flint lime bricks, are made from a combination made-up of sand, lime, and water. A pigment is regularly added to the mix to impart different colorings to the brick, which could in any other case be a grey-white – off white color.
Concrete Bricks
The ingredients for concrete bricks include Portland cement, water, and an aggregate.
Concrete bricks are created by pouring concrete into a mould to forged and generate a uniformly- sized brick product. The mildew can be designed to produce a diffusion of finishes on the face edge of the brick to unique the architectural info and aesthetics preferred.
Finishes might be smooth or may additionally simulate the look of natural stone, for example. Various pigments may be added to the concrete in the course of production to impart different shades to the brick.
Comparing concrete bricks to clay bricks, clay bricks are around 2.5 – 3 times stronger than concrete bricks. The average compressive energy of concrete bricks is somewhere around 3,000 – 4,000 psi, even as nicely fired (difficult) clay bricks have mean compressive energy of eight,000 – 10,000 psi. Concrete bricks also are greater absorbent than clay bricks.