Plumbing Fittings: 14 Types Of Plumbing Fittings Explained With Pictures
14 Types Of Plumbing Fittings Explained With Pictures
The material also plays an essential role since the wrong choice could lead to leaks or malfunctions within your system.
By following our types of plumbing fittings guide, you should be feeling a little more confident next time you're on the hunt for plumbing fittings.
---
Different Plumbing Fittings
Adapter
When the  pipes are not having special ends or plain ends then adaptors make them threaded either male or female whichever is needed with male having threads on the outside and the female on the inside. Adopters are generally used for copper and PVC pipes.
Male adapters contain male threads and female adapters contains female threads. One end of adapter is plain which is glued or welded or soldered to the plain pipe end.
Nipple
A pipe nipple is one of the most popular types of fittings; it's also very important. It connects pipes to appliances such as water heaters, and connects two straight pipe runs.
The nipple fitting has two male ends.
There are five types of pipe nipples, including:
Weld nipple: Used to connect tube fittings. They're strong and can be used under extreme pressure surges, vibrations, and changes.
Hexagon nipple: This has two threaded ends and a hexagonal center. Available in a variety of materials, lengths, and threads.
Swage nipple: Used to get fluids through one pipe size to a different size.
Barrel nipple: Short tubular nipple with an external taper thread at each end, and is un-threaded in between.
Close nipple: Threaded throughout both ends. Also referred to as a "running nipple."
Before buying a pipe nipple, it's important to consider material, thickness, and diameter to make sure you get the correct fitting.
Elegant 3 Bedroom Bungalow Design With A Floor Layout 13 9 X 14 6 Meters
Union
Union is a type of fitting, which functions as similar to coupling.  Unions consists nut, male and female ended threads. So, this is also useful for maintaining purpose of pipe.
Union fittings are made up of three parts: a nut, a female end, and a male end. They're designed to connect two pipes with the possibility of being detached without damage or deformation to the pipes. They're conveniently used in maintenance or cases of planned replacements in the future. One of the many advantages with union fittings is that they're easy to install.
Coupling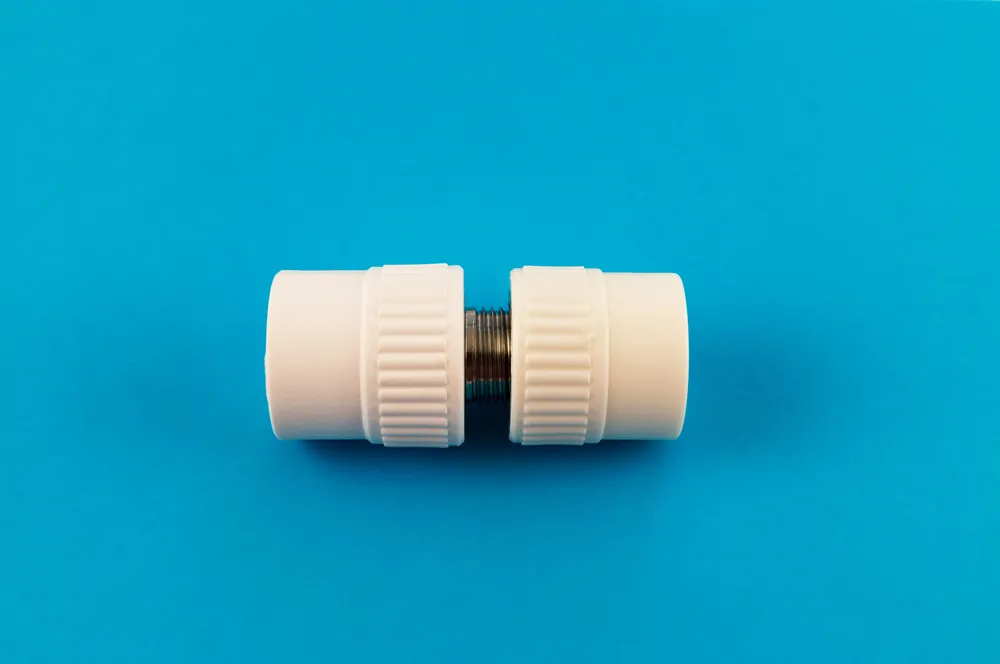 Couplings are very similar to unions. However, these can't be detached without damage to the pipes.
Couplings can be used to connect two pipes of the same size and diameter. They're also commonly used to change pipe sizes; a bell reducer is a common coupling used to do this since it connects a big pipe to a smaller one.
Cross
Cross type fittings contains 4 opening in 4 directions. These are connected when there are 4 pipes are meeting at a point. These fittings generate more amount of stress on pipe as the temperature changes, because they are located at the center of four connection points. Cross fittings are generally used for fire sprinkler systems.
Tees
Tee type fitting is a component of plumbing system which is in T-shape. It is having one inlet and two outlets, outlets are arranged at 90o to the main line connection (inlet). It can also be used to combine the flow from two inlets to one outlet. They are also available in different materials and different sizes. If the 3 sides of T-fitting are similar in size then it is called as Equal tee otherwise it is called as Unequal tee.
 Elbows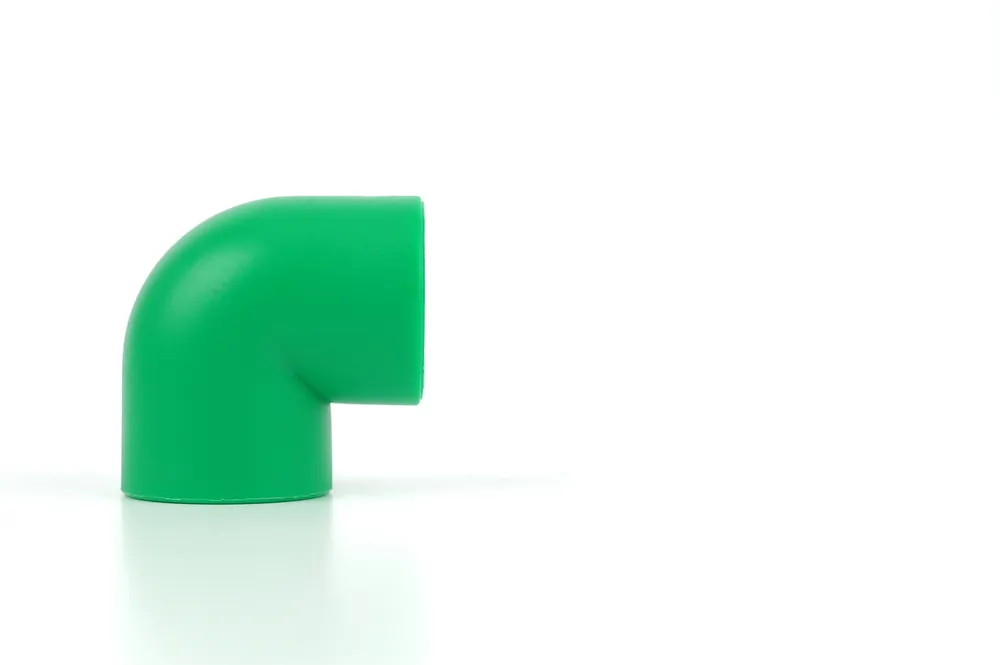 Elbow fittings are curved and are mainly used to change flow directions. Elbows are generally available with an angle of 22.5o, 45o and 90o. If pipes are of same diameter then normal elbows are used otherwise reducer elbows are used. Elbows are made of different materials. These are generally coming with female threads and we can fix them by butt or socket welding also.
Plug
Plug is a component of plumbing component which is generally used to close pipe opening during inspections and repairs. Plug are generally contains male threads  and are usually threaded to allow the plug to be removed for future use of the pipe.
Cap
Cap is a type of pipe fitting which function is same as plug but the only difference is plug contain male threads and cap contain female threads which is screws on the male thread of pipe. These are available in different materials like rubber, copper, steel, plastic etc.

Valve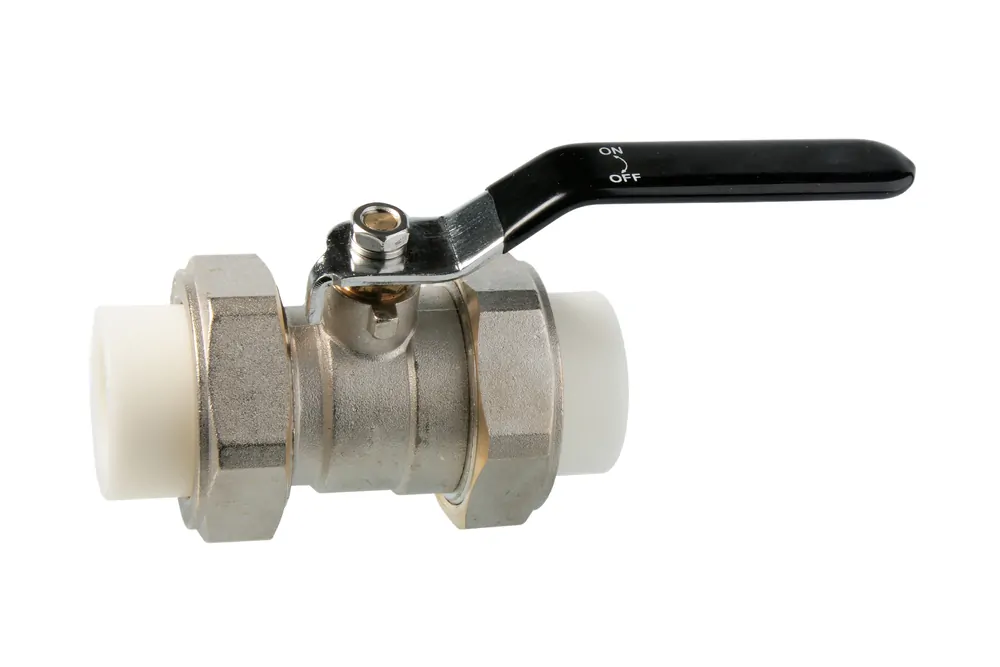 A valve is used to regulate or stop the flow of gas or liquid. Valves are generally categorized by application, such as:
Isolation: Used to disconnect a part of a piping system temporarily. Usually left fully open or closed, and can be in place for years before replacement.
Throttling: Used to control the pressure of a fluid. Designed to withstand wear and stress; however, they might eventually give in. Usually installed along with an isolation valve in case of malfunction.
Non-return: Also called check valves, these allow a free flow of fluids in one direction, but prevents reverse flow. Often used in sewage and drainage systems.
Reducer
Reducer is a pipe fitting component which reduces the flow size from larger to smaller by reducing size of pipe. Usually there are two types of reducers are available. One is concentric reducer which is like cone shaped with gradual decreasing around the pipe but in this case accumulation of air may possible and it results in cavitation. Other one is eccentric reducer which is having one edge parallel to connecting pipe due to which air accumulation is not possible.
 Clean-Outs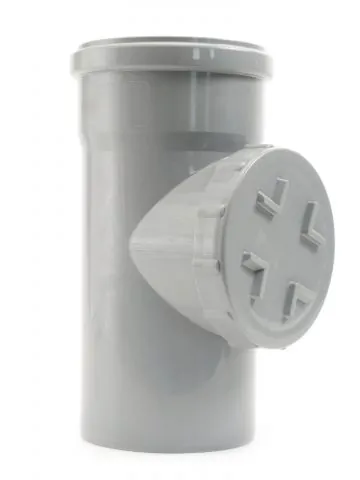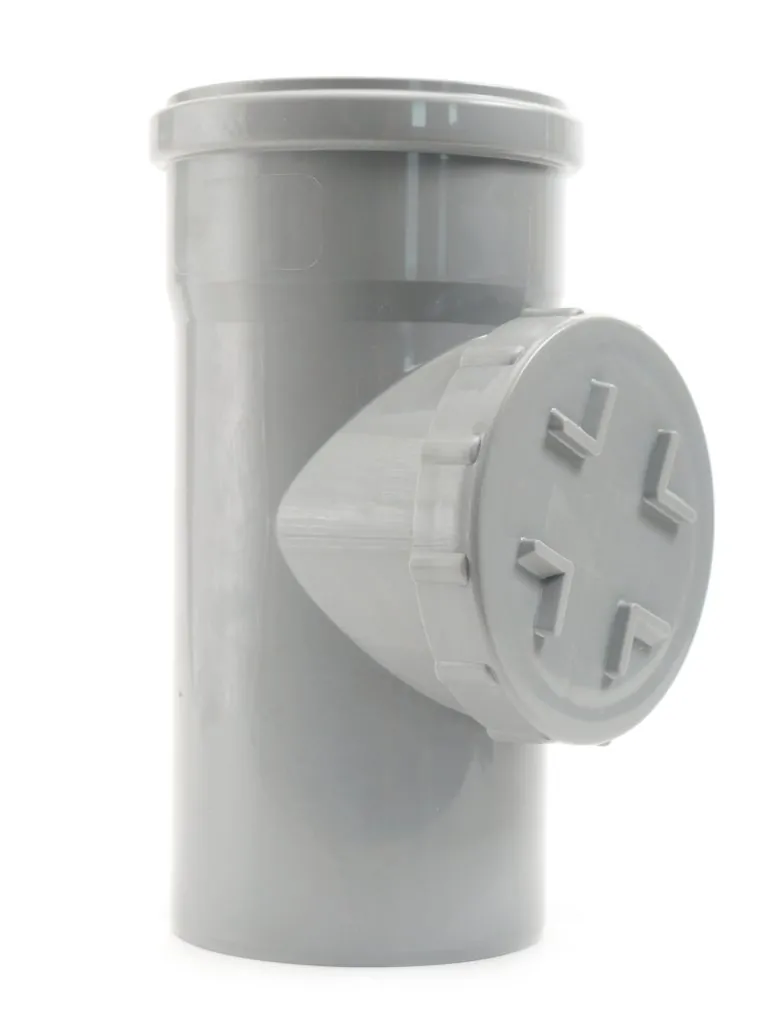 A clean-out fitting features removable parts that allow access to drains without the need to undo plumbing fixtures. Clean-outs will enable an auger (a type of drill) to enter and clean a clogged drain.
Its crucial clean-outs are placed in accessible locations since an auger isn't the longest tool. Larger plumbing systems feature several clean-outs that will be placed at regular intervals.
Clean-outs are mostly made out of PVC.
 Diverter Tee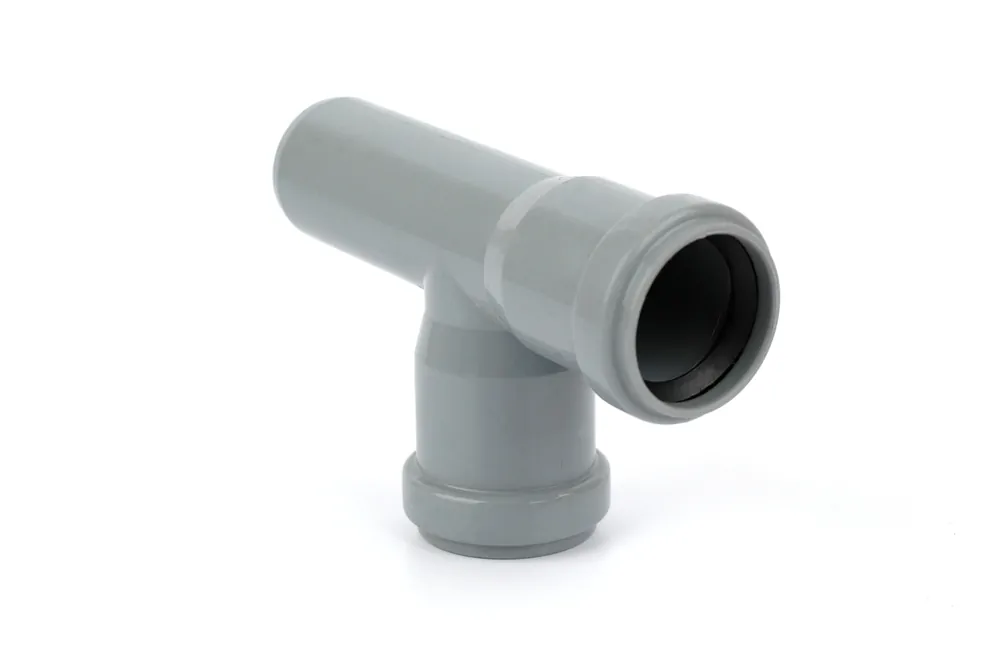 This type of tee is mainly used in pressurized hydronic heating systems. It diverts portions of the flow from the primary line into a side branch that's connected to a heat exchanger.
It's designed to allow a regular flow through the main line, even if the branch is shut off.
Installing a diverter tee can be a challenge. It features directional marking that must be followed. If it's installed backward, it won't function properly.
Barb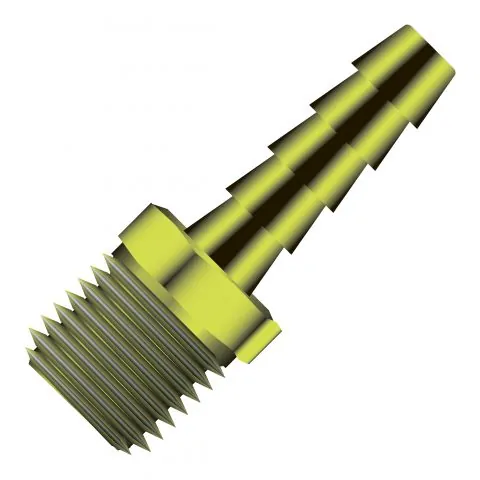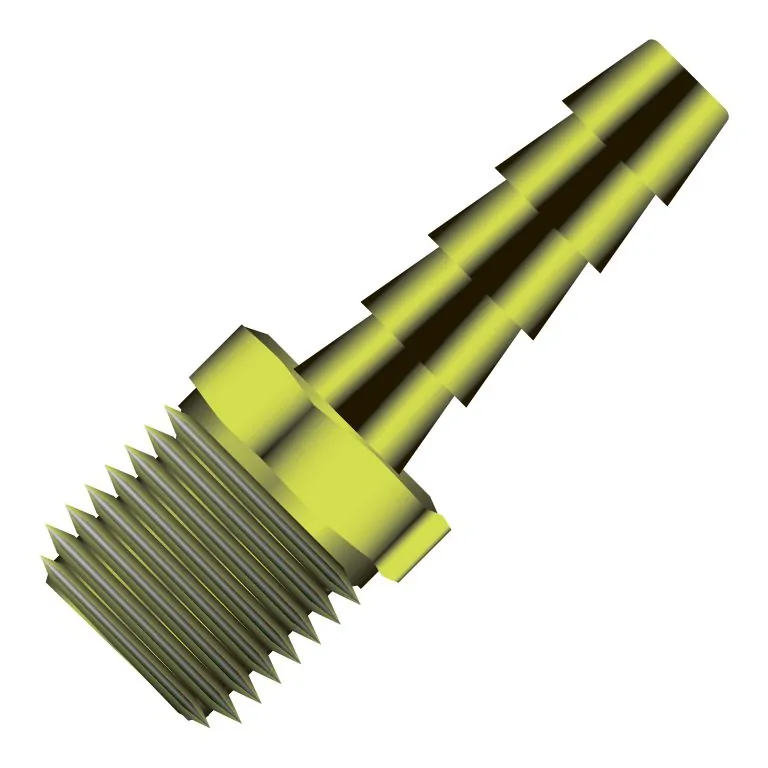 Barb fittings are generally male at one end and have a tapered and ridged cone at the other. They're designed to grip the inside of a tube and seal the connection.
As the barb fitting is inserted, the hose or tube will first expand and then relax. When the tube or hose relaxes and goes back to its original size, the connection is sealed and becomes difficult to undo. Barbed fittings are generally used in gas, air, and fluid control applications in low pressure.
For water connections, plastic barbs are used for cold water. Brass barbs are used to carry hot water.